Chemaical name: Trithiocyanuric acid Trisodium salt(TMT-Na3.9H2O)1,3,5-Triazine-2,4,6-trithiol trisodium salt
Structural formula: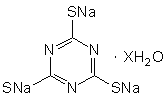 Molecular Formula: C3N3S3Na3.9H2O
Molecular Weight:243.22
CAS NO.:17766-26-6
Quality standard:
| | |
| --- | --- |
| Appearance | Colourless to light yellow crystal powder |
| Melting point℃≥ | 83 |
| CONTENT≥% | 60 |
Uses:
TMT-Na3.9H2O Also called TMT-55, is a commercial product that widely used to precipitate mercury, copper, silver, lead,and other divalent and univilent heavy metals from waste effluents. Commonly it is used as the 15% aqueous solution of TMT-Na3. It has extremely high heavy metal eliminating efficiency even with a small dosage. All other existing heavy metal eliminating agents tend to selectively react with some heavy metals and are smelly and toxic, while this product has conquered all these weaknesses. The product capable to settle down almost all monovalent and divalent metals such as copper, cadmium, mercury, silver, lead and tin. It can also eliminate heavy metals that have already turned into complexes, especially suitable to settle down mercury, copper, cadmium, silver, lead, nickel and tin.
Comparing to similar heavy metal repair agent, this product is less toxic and much safer, 33.32g Trithiocyanuric acid Trisodillm salt added to 100g water to obtain the 15% aqueous solution.
Packing: 25kg drum