Chemical name: The complex of Styrenated phenol and the carrier
Chemical Structure: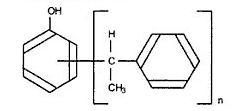 CAS NO:61788-44-1
Quality standard:
| | |
| --- | --- |
| Appearance | white powder |
| Loss on heat 50°C/2h | ≤ 0.5 |
| Settling volume ml/g | 1-1.8 |
Uses:
As non-pollution atiager, it's suitable for natural rubber, synthetic rubber and latex. It can well prevent from ageing caused by heat, light, flexing, and weathering, etc. It is mainly used to manufacture rubber shoes, rubber cloth, latex sponge, white products, and bright-color products. It can apparently improve slickness of foxing of rubber shoes. The basic dosage is 0.3-2 portions.
Packing & storage :
25kg in plastic film bag lined plastic woven bag. The valid period is 1 year in the room temp and dry place, avoid direct sunlight