Chemical name: 2-benzimidazolethiol
Other Name: MBI
Structural formula: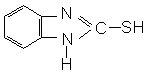 Molecular formula:C7H6N2S
Molecular weight:150.2
CAS NO: 583-39-1
Quality standard:
| | |
| --- | --- |
| Index Item | Qualified product |
| Appearance | light yellow or gray fine powder |
| Melting point °C≥ | 285 |
| Ash %≤ | 0.5 |
| Loss on heat %≤ | 0.5 |
| Residue on screen (40/cm)%≤ | 0.1 |
Uses:
It can protect from oxidation, weathering, and static ageing, and effectively prevent from copper-induced degradation and bad effect caused by over cure during vulcanization. It gives delay effect to Accelerator M, MD, F, TMTD, TMTM, PX and 774. And it will bring synergistic effect while used together with amine or phenolic primary antioxidant. It doesn't discolor, and is usually used in wires, cables, transparent, light-color or bright-color products. It is particularly suitable for rubber compound including ultra accelerator, with dosage of 0.5-1%. It is stabilizer for styrene butadiene, butyronitrile, polyurethane and other synthetic rubber, with dosage of 0.5-1%. And it can be used as heat stabilizer in natural rubber and bivinyl rubber, with effect of passivating variant valence metal; dosage is 1-2%.
Packing:
Polypropylene woven bag, Net wt. 25kg.